Donald Thomas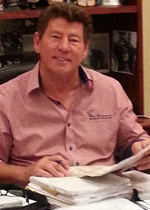 Owner / Senior Estimator
Founded in 2002, Don Thomas and partner Kerry LeVan opened Ward-Tek Construction, Inc. in Orange County. This would be the second Ward-Tek Construction office to open, working closly alongside its Northern California Office in Belmont, California.
Donald Thomas began his career in the early 70's, starting concrete labor and a few years later as a concrete finisher. He has been successful in the Insurance Restoration and Construction since 1975.
Donald has continued up the ladder in supervising commercial buildings, apartment complexes, condominiums, and Hotels. He built a relationship within the industry from all his expertise, and becoming the best! Over the years, worked on several different large projects throughout Southern and Northern California such as:
House of Blues
Longs Drugs
Lucky's Groceries
Lamppost Pizza
Ultra Tools
Park Irvine
West Coast Gaskets
LABrie MAnagement
Q-Flex
Additional References upon request
With his talents and respectful construction background, he continued his path reaching his dream by starting his own Restoration Company. Thirty years later, he continues specializing working with both residential and commercial properties, by his true passion building property back to its pre disaster condition.